Discussion Starter
·
#1
·
Well, I've just had a lovely week up in Rugen, North Germany.
Trouble is it was minus an XF! :?
Day 1 and we drove up a little country lane, where I then proceeded to carry out a 3 point turn, only to find the old gear selector, didn't want to select! :shock: I turned off the engine and the selector just sat there in the up position. I tried to start the car but got nothing and was greeted with "gearbox fault" on the display.
Yes it seems like I have also been the latest victim of the stuck in drive issue.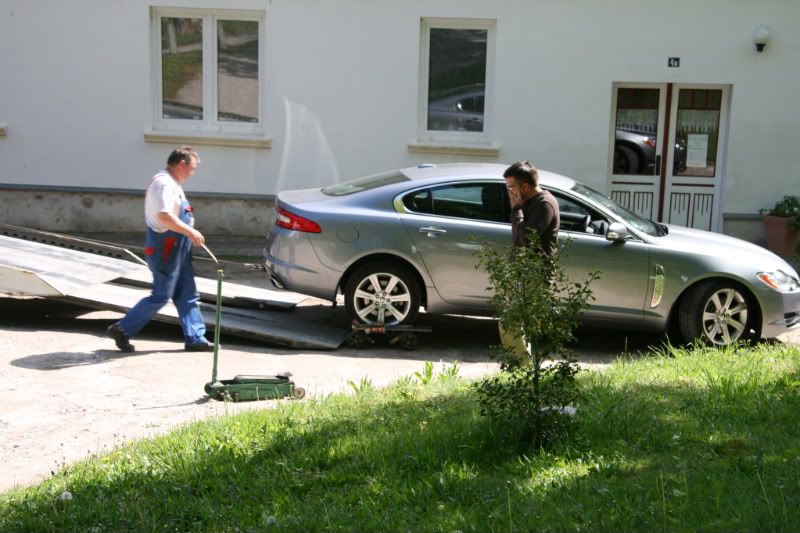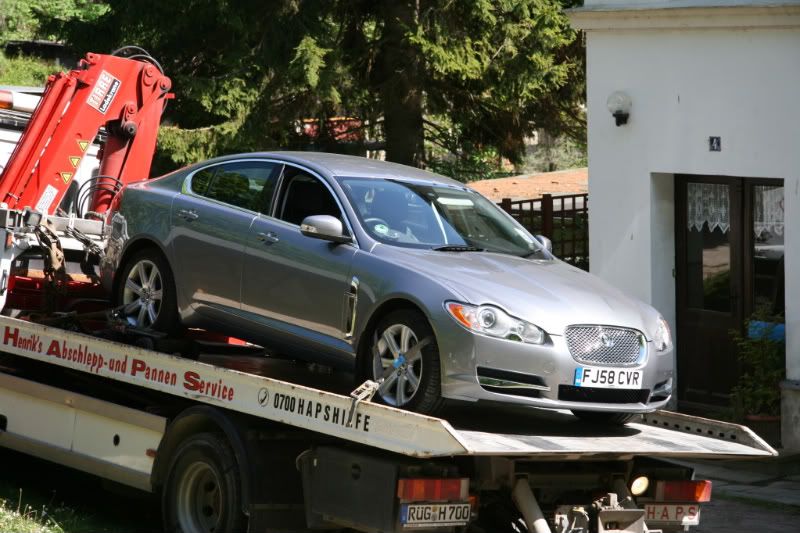 I called Jaguar assist and within 40 mins they had someone out to us, now take into account, Rugen is an Island in the far North of Germany, we were pleasantly surprised by the response. The chappy that arrived was AvD (the German equivalent of the RAC) he admitted that it was the first time he had even seen an XF, so I wasn't holding my breath for a quick fix, but none the less he had a potter, then called the recovery truck out, which arrived within 20 mins.
Once bundled on the truck, we all went to their offices, where there was a replacement car waiting and we were on out way again. From start to finish about 2 hours, throughout which the mobile was ringing every 20 or so minutes from Jag Assist to check up on us.
So all in all Top marks for the Jag Assist, I was extremely impressed.
Next day we had a call from the AvD office to say the car was ready, this was odd as the nearest dealership to Rugen was Lurbec which was 260km away. We went and collected the car and all was well, we then recieved another call from Jag asking if we had the car and was all well, bless them.
An hour later, whilst carrying out another 3 point turn (I do enjoy them 3 pointers) I jokingly said to the better half "how funny would it be if its gone again"? Well, as it turns out, not overly funny at all! Yes it had in fact gone again, so on the blower yet again to JA (Jag Assist) and this time didn't quite have the same warm feeling I had the previous day. The young lady on the other end of the phone attempted to tell me how to rectify the problem over the phone, on explaining that it had happened the day previous, she started asking if I knew how to change gear correctly on this vehicle?!
Anyway, this time I wanted the car to go direct to a Jag dealer to get fixed correctly. This time JA were absolutely useless, horrific in fact. I had no calls from the moment I told them I was back at the AvD depot. AvD still had the hire car so let us have it again, we went back to the hotel and I called JA and asked them what was going on, they didn't have a clue and promised that someone would call me in the morning.
The next morning, no one called from JA , luckily I can speak enough German to get by, so I rang the dealership in Lurbec and found out what was going on. That evening I rang JA and asked if they had any info, to which the reply was obviously no, I then asked them if they would like me to tell them what was going on. I had to fully brief this chap who didn't even know the car was at Lurbec.
I liaised with the dealership direct the next day and arranged to collect the car en route home, about an hour from arriving at my house in the XF, good old JA called to inform me the car was ready and could I go and collect it! :roll:
So, Jaguar assist has taken a few beatings I can see from various members and what is my verdict?
Well unfortunately it all stands on who takes your call, if the car had been fine after the first breakdown then I would be on here saying anyone that's had a drama with them is telling porkies. After my second encounter I have to say they were shockingly bad. So, if anyone on here has to call for assistance in the future I hope you get someone helpful and then you should be suitably "wowed" Take into account this is JA Europe not UK so hopefully back home they are better, mind you they should be level anywhere in the world!
Just to finish off this mammoth post, the sodding fault has returned this afternoon! So lets see how well they do this time. 3rd times a charm!
Funny old thing is that I still love this car and wouldn't swap it for anything else! I am well and truely XF'ed
p.s. Peter not a word about the 3 months trouble free driving my wife had whilst I was away!
:lol: