Discussion Starter
•
#1
•
Autocar

http://www.autocar.co.uk/car-review/jaguar/f-pace/first-drives/2016-jaguar-f-pace-30-v6-s-review
What is it?
The Jaguar F-Pace is a watershed moment for the ascendant British car-maker. As the company's first SUV it is, in principal, the catalyst to transform the brand from upwardly mobile minnow to truly global player; to broaden its reach for a much wider customer base, boost its production volumes into the hundreds of thousands per year and give it a presence in one of the fastest-growing market segments in the world. To describe it as important is selling it a bit short.

And yet it's not just another medium-sized, middle-of-the-road upmarket soft-roader, nor – quite plainly – a Jaguar as we might expect it to be. It's a bit different; different to look at, to sit in and very much so to drive, as a day on a frozen lake in Sweden with one has just demonstrated.
Arriving in UK showrooms this April, the F-Pace, which has been four years in the making, shares its 'D7A' platform with the XE and XF saloons. The car's body-in-white is almost identical to that of an XF from the B-pillar forwards – with a bespoke front subframe slotting in to allow for the longer-travel suspension that an SUV needs – but unique from the B-pillar back. Almost 80% of the superstructure is lightweight aluminium, and almost 90% of the car's components are new (rather than common with either XE or XF).

Powertrain options start with a 178bhp 2.0-litre Ingenium diesel, manual gearbox and rear-wheel drive, ranging upwards to include automatic and four-wheel drive Ingenium options. Then further upwards to a 296bhp, 516lb ft 3.0-litre twin-turbocharged diesel and a 375bhp 3.0-litre supercharged petrol – both of the latter offered exclusively with eight-speed automatic gearboxes and four-wheel drive.

But unlike Land Rover's smaller 4x4s, which use transverse engines and clutch-based four-wheel drive systems, the F-Pace has a longways engine sending 100% of its torque to the rear axle as a default. Active all-corner traction comes courtesy of the same electrohydraulic coupling you'll find in an F-Type AWD, which can send up to 100% of power to either axle within a tenth of a second when called to, although in the F-Pace that drivetrain operates through a beefier front differential.

Suspension is common in concept to the all-independent set-ups of both the XE and XF, with front double wishbones and an 'integral link' multi-link arrangement at the rear. Non-height-adjustable steel coils, passive dampers and conventional anti-roll bars feature as standard, with a healthy 213mm of ground clearance trumping what most of the German opposition can offer, yet in the Jaguar's case without the aid of optional air springs.
Continuously variable damping adds some breadth of capability to upper trim level cars, as does a clever traction and stability control system, called Adaptive Surface Response, which reads the grip level underneath the car's wheels by the millisecond and adjusts its throttle map, torque split and stability and traction control settings to suit.
We drove a top-of-the-range 3.0-litre V6 S AWD model on 20in wheels shod in Continental winter tyres which are due to be optional fit in the UK.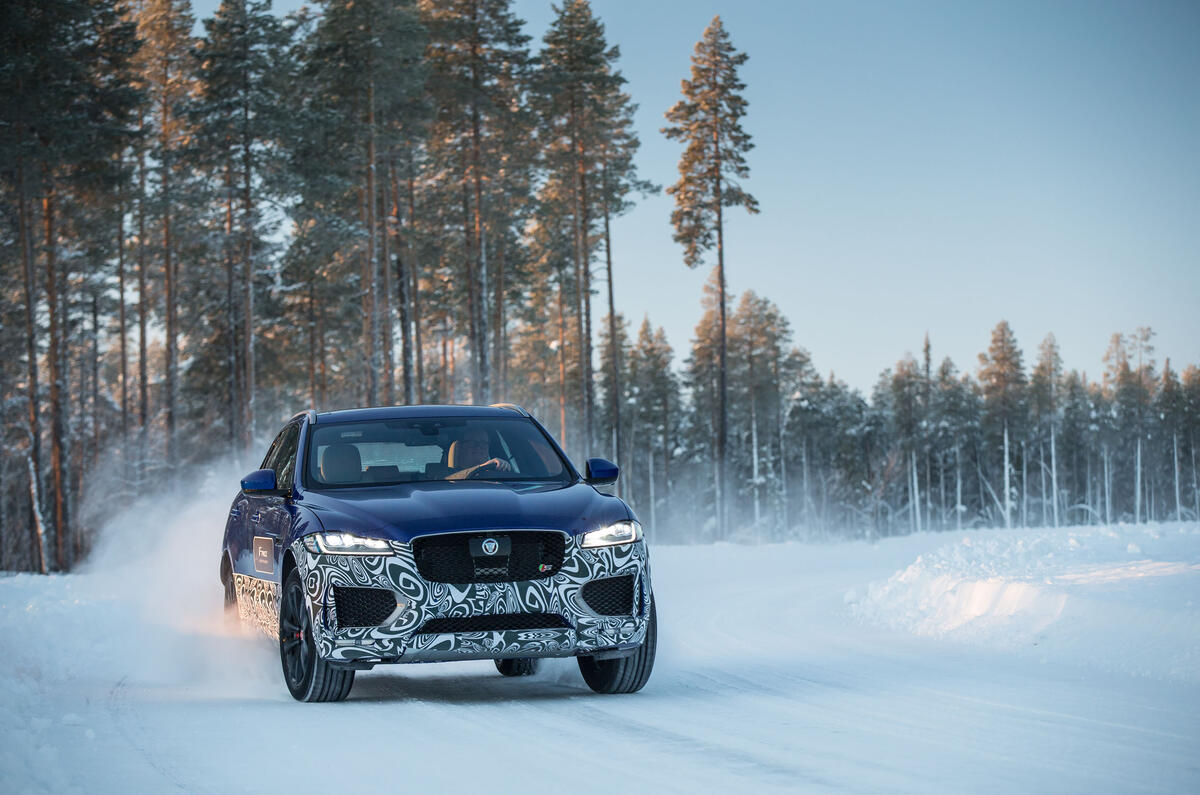 What's it like?
A touch softer and more soulful than its key German rival, while at once being more poised and engaging to drive than all of its others. It's simultaneously more practical, capable and secure to drive than any of its rangemates, too. But we'll get to that.

First, it's worthwhile pausing to consider how different the F-Pace might have been if not for the launch, midway through the Jaguar's development process, of the car that rocketed straight to the top of our mid-sized sports SUV charts two years ago: the Porsche Macan.

Until the Macan came along, Jaguar had been benchmarking the BMW X3 for driving dynamics and the Audi Q5 for cabin quality, practicality and functionality. "The Audi set us a high standard," says Jaguar engineering manager Dave Shaw, "But while we liked the way the X3 handled, we were confident about beating it dynamically."

But the Macan threw everything up in the air, putting the F-Pace project back months. "We had some big decisions to make," says Shaw. "Could we match the Porsche on ride and handling using the car we'd got, retuned and rethought, and still end up with something that felt like 'us', like a Jaguar?"

They decided they could, and promptly fitted firmer coil springs and anti-roll bars then retuned the dampers and altered the wheel angles for crisper on-centre steering response, ending up with the F-Pace more or less as it is now. "I'm glad the Macan came along when it did," another engineer explains. "Because before that the F-Pace felt like a more normal SUV to drive. I'd have worried that we'd made it too much like what Land Rover offers. Afterwards, the car became the modern sports crossover we intended it to be all along."

By that, you can take it that he means inherently more sporting than the class norm without feeling at all too highly strung for the road. It must have been a tricky compromise to strike, but Shaw sums it up neatly with reference to the F-Pace's rangemates rather than its competitors.
"We've aimed for the comfort and refinement of XF, and the handling response and driver appeal of XE," he says, "and I think we've achieved that. The

http://www.autocar.co.uk/car-review/jaguar/f-pace/first-drives/2016-jaguar-f-pace-30-v6-s-review

Porsche probably grips harder on perfectly smooth, dry roads with all of the optional chassis kit dialled up, but I think the F-Pace is more engaging and better handling on most roads."

Ah, the road: not somewhere we were permitted to drive the F-Pace prototype at this juncture, with the European press drives planned for April. Ho hum. However, on 500mm-thick Swedish lake ice and densely packed snow – which is nothing like as smooth in reality as you might expect – the car certainly did everything necessary to back up those claims.

The hip point is medium-high, and pretty typical of its competitors, so getting in requires no bending or stooping. Once you're in, the seats are wide and comfy and the driving position promisingly recumbent – with a close roofline and high-feeling waistline making you feel particularly nicely ensconced. Occupant space isn't as generous as some medium-sized SUVs, but a 6ft 4in adult can easily find comfort in either row, while boot space is generous below the windowline.

The cabin looks and feels very much like that of an XF, with a few distinguishing features. Variable-colour LED strip-lighting gives the cockpit a pleasant glow after dark. Elsewhere, Jaguar's next-generation InControl Touch Pro infotainment system is available, whose screen is an impressively wide 12.3in and whose processing power is evidently much greater than in the systems available on the XE and XF, leading to quicker responses and better usability.
Adaptable LCD instruments are another high-end touch, with an option to display navigation mapping across the full width of the 10in binnacle screen – although not quite with the graphical brilliance of Audi's Virtual Cockpit.

Like other Jaguars the F-Pace has Normal, Dynamic and Eco driving modes, added to which is the Adaptive Surface Response mode for slippery surfaces and a new fully configurable 'custom' mode allowing you to tailor steering weight, damping and powertrain response to your own preference. The V6 S version doesn't have the active sports exhaust of the equivalent F-Type, and doesn't sound nearly as throaty under power nor as cracklingly theatrical on the overrun. The combustive soundtrack is far from plain though, and seems well-judged for the role of the car.

All Surface Progress Control and Low-Friction Launch modes allow you to calm down throttle response as much as you like when ice and snow call for delicacy with your right foot – but in truth, even in its angrier modes, the measure and progressiveness in the F-Pace's controls make it easy to drive smoothly. Wheelspin can be dutifully avoided, and even when courted needn't be excessive at either axle, the drive system working very quickly to juggle torque fore and aft.

Though it's hard to get much of an idea about cabin isolation when driving at low speeds on snow, the F-Pace seems to suppress wind, chassis and surface noise well. Its ride is more choppy and less supple over high-frequency ruts and bumps taken at low speed than the class norm, but it's not without compliance, while fluency builds into the mix as your speed increases. Pitch, head toss and all-round close body control are particularly impressive, with the chassis controlling the car's mass very cleverly even under high lateral loads and when tested with bumps.

Meaty, faithful steering filters back just enough contact patch feel to let you know how hard the front axle is working and guides the car with an incisiveness just off-centre that keeps it stable and reassuring at high speeds but keen-feeling on turn-in.

The handling balance has been quite expertly struck. On ice at least, the car is a little bit more stability-biased and surefooted than Jaguar's saloons during steady-state cornering, although still ultimately responsive to a trailing throttle mid-corner.

In the more gentle drive modes, throttle-on cornering is utterly foolproof and reassuring, with the car going exactly where you point it. But cycle through Dynamic, TracDSC and DSC-off modes and the cornering attitude gets steadily more and more lively and throttle-adjustable, although even in the last of those modes, the rear axle moves around very benignly.

So where most of the F-Pace's rivals would simply dive head-on for the snowbanks with a large mid-corner application of power, the Jaguar shows its poise and pedigree and remains supremely controllable and hugely flattering – which, for such a big car, is an even bigger compliment.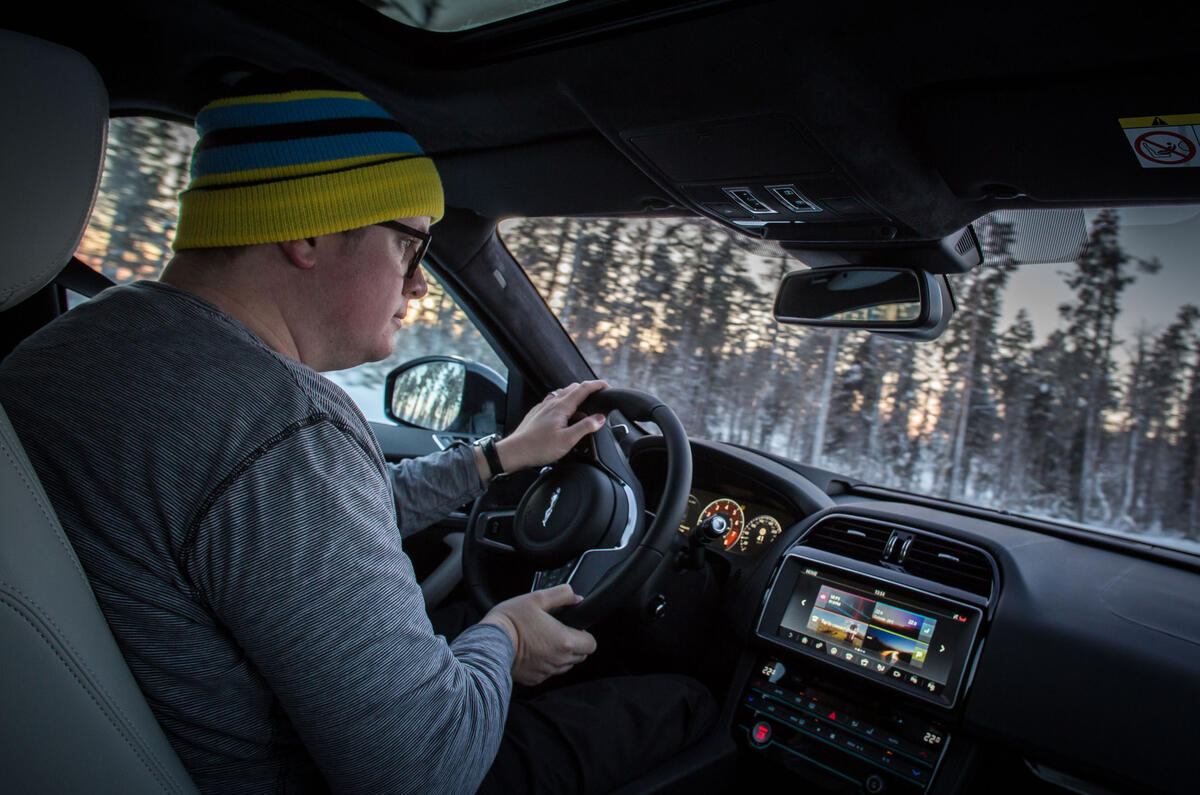 [/FONT]
Should I buy one?
It's a bit early to answer that with any certainty. The jury's still out on exactly how sweetly Gaydon has struck the F-Pace's on-road ride and handling compromise. Specifically, how well it can satisfy the demands of SUV buyers for distinguishing ride comfort and isolation while simultaneously offering more to the keener driver.

Likewise, the car's big-selling diesel engines will need to be every bit as good as its supercharged petrol V6 if it's really going to tempt buyers away from Porsche Macans, higher-end BMW X3s and Audi SQ5s. A very quick stint in a V6 diesel suggests that particular F-Pace at least has plenty going for it – but the 2.0-litre Ingenium still has plenty to prove.

Be assured, however, that if Jaguar has done as thorough a job across the board with this car as it seems to have with its handling and all-round driver appeal – and there's every reason to expect as careful attention to detail from them as you get from any premium brand – the F-Pace will be an outstanding car. An outstanding addition to its class, too, not to mention a proper bumper-to-bumper Jaguar that is well capable of taking the brand places.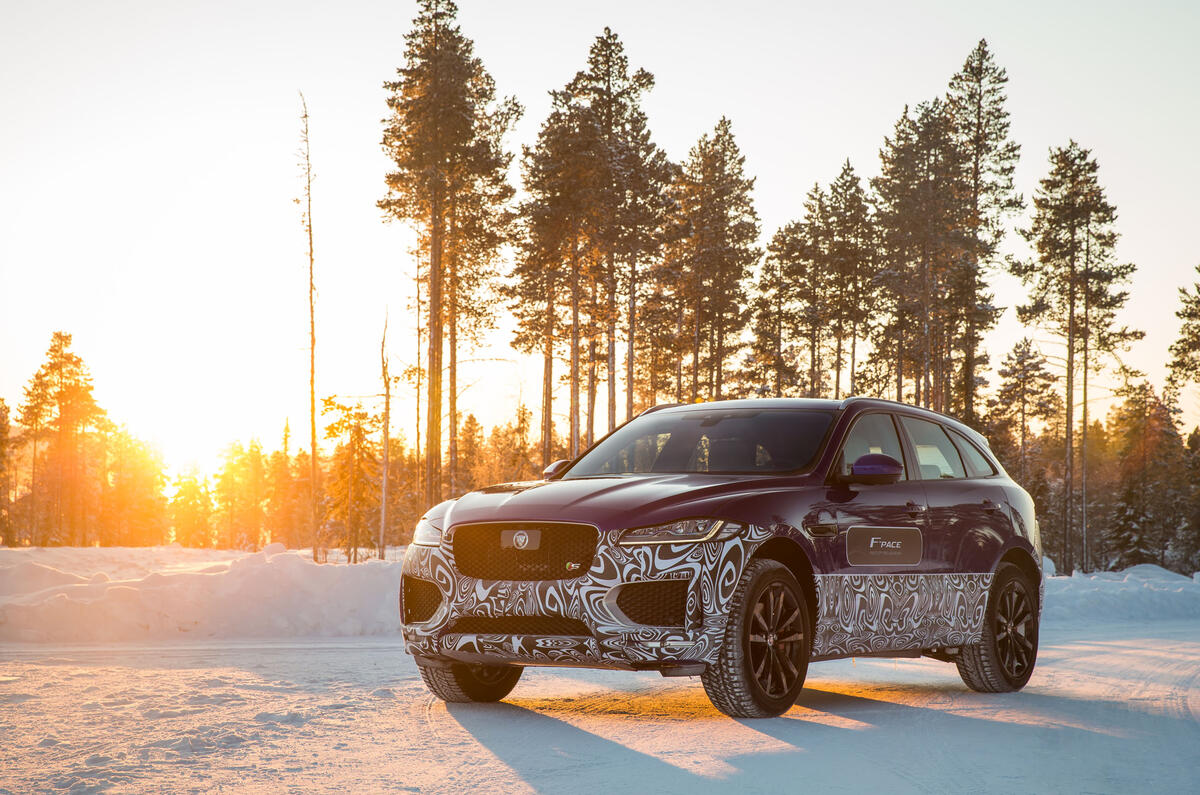 Jaguar F-Pace V6 S AWD
Location Sweden; On Sale April; Price £51,450 Engine V6, 2995cc, supercharged, petrol; Power 375bhp at 6500rpm; Torque 332lb ft at 4500rpm; 0-62mph 5.5sec; Top speed 155mph; Gearbox 8-spd automatic; Kerb weight 1861kg; Economy 31.7mpg (combined); CO2/tax band 209g/km, 37%